Kakwenza rearrest: U.K. E.U & U.S concerned, call for immediate release
By Marvin Ocol
The United Kingdom, European Union and the United States are concerned about the rearrest of author Rukira Kakwenza.
Kakwenza was granted bail yesterday by Buganda Road Court but was rearrested reportedly by the military at the Kitalya Prisons.
In separate statements last evening and this morning respectively, the EU, UK and the US say they are concerned about Kakwenza's situation.
They called for his immediate release.
The UK is concerned to hear about the detention of Kakwenza Rukirabashaija, hours after the court granted his bail application, and calls for either his immediate release or for him to be brought before the courts. Upholding the rule of law is vital to all democracies.

The U.K in Uganda tweeted.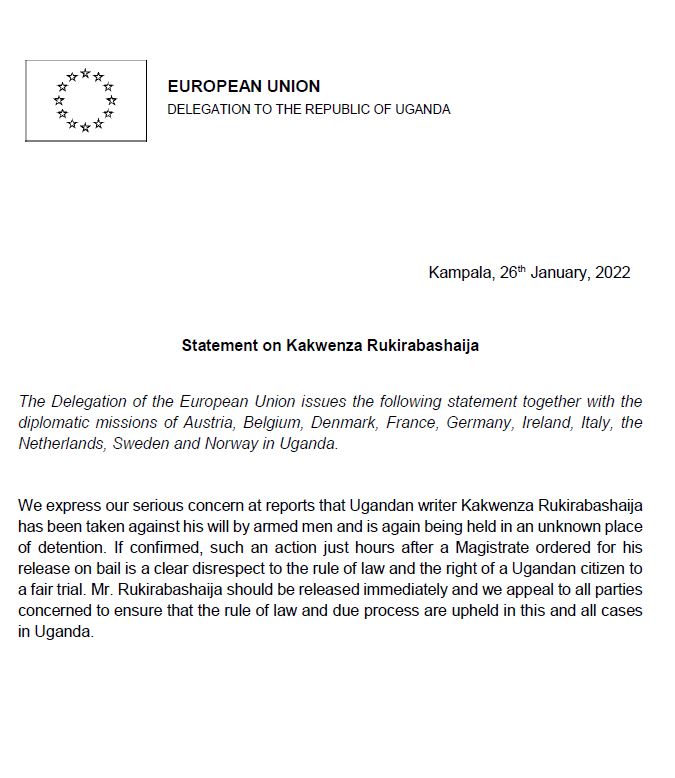 The U.S government said: The USA is deeply concerned by reports that Kakwenza Rukirabashaija has again been detained by Ugandan security services following court ordered release on bail. In democratic societies, rule of law and judicial independence must be respected, especially by security agencies.
We call for the release of Kakwenza Rukirabashaija, consistent with the magistrate's order. We also continue to monitor closely actions by individuals to undermine rule of law & democracy in Uganda.