Museveni's brand new Mercedes-Maybach S650 Guard unveiled
President Yoweri Museveni on Tuesday delivered the State of the Nation Address at Kololo Independence Grounds.
However, one noticeable fact was that he had been chauffeured to Kololo in a brand new Mercedes-Maybach S650 Guard.
President Museveni had been riding in a Mercedes Pullman for ceremonial duties.
The Pullman version of any Mercedes-Benz was the exclusive version for the top of the range model offered by the German car-maker.
The president seems to have put the Pullman to rest by acquiring the Maybach, driven by a few world leaders including India's Nrendra Modi.
DETAILS OF THE CAR
Pricing and Which One to Buy
The S560 and S650's key difference lies with the engine that lives under their imperious hoods. Of the two, the S560 has fewer horses, but there's more than enough power available, so this is the model we'd recommend for most buyers.
Twenty-inch multispoke wheels with silver accents connect the S560 to the pavement, and a huge panoramic sunroof extends over the front and rear seats. Adaptive projector-beam LED headlights brighten the path ahead. The list of standard exterior features also includes rear fog lights, rain-sensing windshield wipers, heated power-folding side mirrors, and LED taillights.
Within the cabin, you'll find heated and ventilated front seats with a massaging feature, along with a Wi-Fi hotspot, keyless entry and ignition, and a heated steering wheel. If you're using the S560 as chauffeured transportation, the well-equipped rear seat will be a big draw. This car's second row is heated and ventilated, and it reclines for optimum comfort. It also comes standard with massaging lumbar support, power side-bolster support, and leg rests.
Additionally, all 2020 Mercedes-Maybach S560 sedans are equipped with a full complement of driver-assistance features, including blind-spot monitoring and lane-keeping assistance.
Engine, Transmission, and Performance
The 2020 S560 is motivated by a turbocharged 4.0-liter V-8 that produces 463 horsepower and 516 lb-ft of torque. A nine-speed automatic transmission sends power to all four wheels. With the S650, a twin-turbocharged 6.0-liter V-12 does the honors, and it provides 621 horsepower and 738 lb-ft of torque.
This powerplant comes with rear-wheel drive and a seven-speed automatic gearbox. An S560 that we tested at the track made it from zero to 60 mph in 4.7 seconds, which is an impressive performance for a car with such sizable dimensions. With both sedans, you get handling that's poised and gracious. The steering is light at low speeds and gets weightier as the car's pace increases.
The suspension is magnificently calibrated, keeping road harshness at bay while avoiding excessive body roll through turns.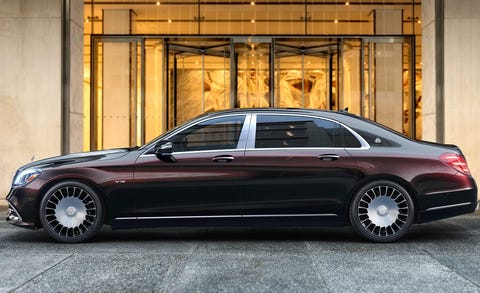 The car comes with the highest ever VR10 level protection in the production car. Mercedes-Maybach S650 guard gets an Explosive Resistant Vehicle (ERV) 2010 ratings, which can withstand protection from a 15kg TNT explosion from a distance of two meters. Not only this, but the car also gets polycarbonate secure windows that can take bullets without causing any damage to occupants. The vehicle also gets armored protected lower body to withstand the direct explosion.
The material of the fuel tank of the Mercedes-Maybach S650 guard is the same that Boeing uses for its AH-64 Apache tank attack helicopters. It gets coated with a unique material that seals the hole automatically after hit. In case of gas attacks, the cabin has provisions to supply separate air to occupants inside.
The car is powered by a 6.0-litre twin-turbo V12 engine that churns out around 512hp and 900Nm of peak torque, mated with a seven-speed torque converter powering to rear wheels. It's S-class, so we presume it has all the comfort features that a luxury S-class comes equipped with.
Interior, Comfort, and Cargo
With both the S560 and S650, you get a cabin that drips with opulence. Luscious leathers and gleaming woods are used throughout, and the interior design is sleek and stylish. These cars have a longer wheelbase than the Benz S-class, and this translates to more legroom for rear-seat passengers. While the S-class provides 34.1 inches of legroom in the back, the S560 and S650 bump this up to a generous 40 inches. The rear compartment comes standard with seats that can heat, ventilate, and massage. Adding the Executive Rear Seat Plus package brings in two folding tables for the rear seats, along with heated and cooled cupholders. This roomier, enhanced rear seat is the main feature justifying the S560 and S650's price premium versus the S-class. Unless you're planning on letting a chauffeur take the wheel, we'd recommend sticking with the Mercedes S-class sedan. Somewhat surprisingly, the S560 and S650 are light on cargo space. There's just 12.3 cubic feet of room in the trunk. With the Rolls-Royce Phantom, you get a trunk with 19 cubic feet of cargo capacity.